Genealogy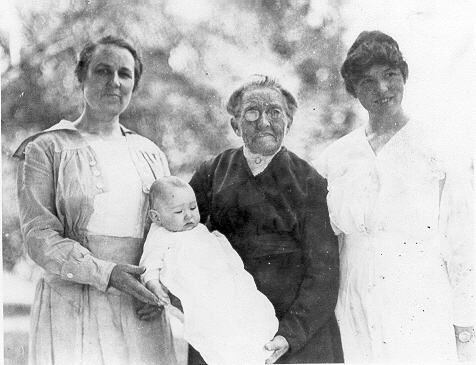 This site is dedicated to the genealogical and historical research into a few families who came from Great Britain to America during its colonial period. The common thread of these lines is their relationship to the descendants of Nancy Bartlett Dutton and William Bethel Rowe. These relationships are the primary lines documented here. Also included on these pages are links to other closely related websites and to other researchers.
The photograph is of four generations. From daughter to great-grandmother are Phyllis Ellen Rowe, (1917 - 2006) Eunice Evelyn (Coats) Rowe (1893 - 1979), Phoebe Ellen (Bowles) Coats (1873 - 1962), and Ellen (Patton) Bowles (1841 - 1927).
Caveat Lector! (reader beware) The genealogy contained on this site is presented with a reasonable confidence in its accuracy. Some parts are supported by first-hand recollection while others are backed up with primary documentation. However, still other parts have been collected from printed publications and other web sites that may or may not be supported by primary evidence or expert opinion. When questions have been raised as to the accuracy of some of this data by others or I am unsure of it myself, I have indicated alternative interpretations. Anyone using this site for research purposes should not assume that any data not explicitly supported by stated primary evidence is an absolute fact.
Dynamic footnotes - This site uses dynamic footnote to cite supporting documentation for the facts presented on this site. This is an example of an item that has a dynamic footnote.
A footnote will appear here.
Update 16 Sep 2023 - the original version of this site was created before genealogy sites like ancestry.com existed. It provided information that couldn't be found elsewhere online. With the proliferation of online genealogy site, much of the information here is redundant. I've moved this site to a subsection of my main site and greatly pared down what is presented. It's intended audience are the descendants of the lines given.
Update 18 Feb 2015 - this site has moved and has been updated. The site now uses Ruby on Rails as its framework. The headings have been changed and some minor clean up been has been done.
Primary Lines
The majority of this site documents the following ancestral lines. Some of these are linked to other minor lines that trace back to the original colonial arrival. They are listed at the bottom of the page.
Robert Bartlett, who was born ca. 1603, came to America in 1623 aboard the the "Anne". After he arrived, he married Mary Warren, the daughter of Richard Warren who had come over on the "Mayflower". Tradition has it that the Bartlett family was founded by Adam Barttelot who was esquire to Guido de Brionne. De Brionne (or de Bryan) came from the Liseux district of Normandy to England with William the Conqueror.
Gideon Bowles was born in Oxford, England in 1734 and came to America and settled in Goochland, Virginia with his wife Charity Ann (Hughes) as part of the St. James Colony. This genealogy starts with Gideon's grandfather and traces his line to Missouri and California. The Bowles name is of Norman origin. It first appears in the records of Lincolnshire, England before 1100.
Many people has attempted to determine the ancestors of William Coats who was born ca. 1735 in the Camden District of South Carolina. As there were <%= link_to '17 William Coats', coats_documents_path(:anchor => 'SeveralWilliamCoats') %> living in the area at the time, the task has been very difficult. The name Coats appears to have been derived from the Anglo-Saxon word 'cot' or 'cote' meaning hut or chamber. It is also suggested that it may have come from the Celtic word 'coed' or 'coid'. It first appeared in records as DeCote by 1331. The name was spelled Coates in Scotland.
Deodatus Curtis came of America in 1639 or 1640 and settled in Braintree, Rhode Island. Like Deodatus, his descendents had the urge for new lands. Every succeeding generation except one migrated some distance westwards to sparsely populated territory until Ohio was reached in 1791.
The Curtis name is of Norman origin. The first records of this name are from Warwichshire, England. The Curtis's documented here are believed to have come from Kent.
John Dutton came to America possibly with William Penn on the Welcome in 1682, but more likely on another ship that arrived about the same time. There is a record of land being laid out for John on 10 July 1682 in Southeastern Pennsylvania.
The first Dutton Odard took his name from a village that was part of lands that he received as a result of William the Conqueror's conquest of Chester in 1070. This study also contains information on Odard's ancestors and descendants which are shown on two separate pages:
John England was the son of Nathan England and Sarah Hargrave of England. John came to America in the first half of the 18th century as he was married in Baltimore in 1748. The majority of the information contained here is on the England's of Ohio. The England surname is Anglo Saxon. The first family members were from Norfolk, England.
John Hearst and his family came to South Carolina in 1766 from Ireland. The Hearsts were originally thought to be from Scotland.
John Patton was of Scotch and Irish ancestry. He came from Belfast, Ireland to America in the 1700's and settled in Allegheny City (Pittsburgh), Pennsylvania.
William Rogers came to America from England just before 1750 and settled in Norfolk County, Virginia.
Benjamin Rowe emigrated from Suffolk, England to colonial Ontario. The next generation central to this study, moved from Ontraio to Michigan. The Rowe surname is of Norman origin.